FRIPP ISLAND, SOUTH CAROLINA
Click HERE to see a video of marsh scenes on Fripp Island.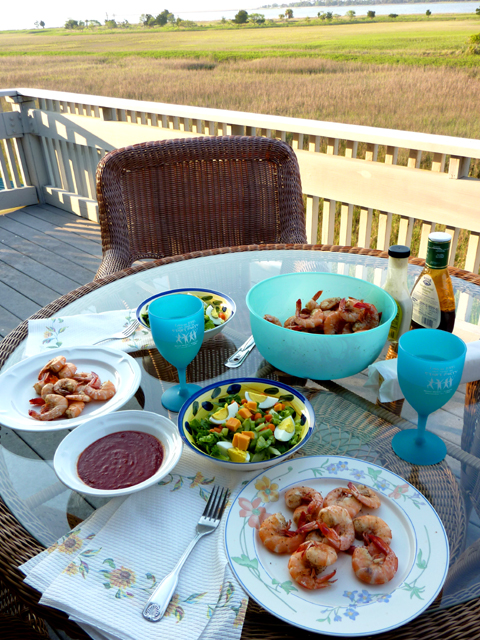 A lowcountry meal overlooking Fripp Island. Photo taken from 6 Spring Tide Village.
Located 20 miles from Beaufort, S.C., Fripp is the most seaward of the South Carolina Sea Islands. It is considered to be a barrier island and is located halfway between Charleston, S.C. and Savannah, Georgia. Fripp has around three miles of beachfront along the Atlantic, although some parts are fully submerged at high tide. It is positioned between Pritchard's Island and Hunting Island State Park with a large marsh separating the islands from Saint Helena Island to the northwest.
Fripp Island is a private, gated community, but beautiful rental homes and villas are available to vacationers and those who want to enjoy the natural beauty and wildlife of the South Carolina coast. The island's trees include hardwood loblolly pine, live oaks and magnolias. Animal life includes a large deer population, squirrels, raccoons, possum, bats and armadillos. Many lagoons contain alligator populations. Fripp Island is an Audubon-designated bird preserve and is home to egrets, herons, osprey, pelicans and a large variety seagulls. Other birds include the American Oystercatcher, Boat Tailed Grackle, Double Crested Comorant, Eastern Screech Owl, Hooded Merganser, Northern Cardinal, Piping Plover, Red Bellied Woodpecker, Red Winged Blackbird, Royal Tern, Willet and Wood Stork. We heard more Mockingbirds on Fripp in April than we've ever heard in one place!
The photos below were taken by Homer and me during a vacation in late February and late April of 2010.
Click on each thumbnail to see full-sized image.
Birds
Deer

The Beach

The Marsh and Island Forest
Fripp Scenes
Our beautiful vacation home porch, the marsh boardwalk and villa deck.